Taking action to preserve biodiversity
In collaboration with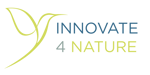 Do you have an efficient & sustainable solution in biodiversity?
Pitch your business in front of an

international investor audience

from home!
Looking for Solutions in
Sustainable management of ecosystems
i.e.

protection,

conservation and restoration of

carbon-rich terrestrial, freshwater and marine ecosystems such as

forests, wetlands, grasslands, mangroves
Productive and regenerative agriculture
i.e.

new ways of agriculture and farming integrating methods to support

soil health

regeneration, protection of climate, water resources and biodiversity,

farmer productivity and profitability
Nature as infrastructure and planet-compatible cities
i.e.

building with nature with

green roofs, rain gardens, permeable pavements, urban design, waste disposal and recycling services, water and sanitation service

s
Nature-positive energy and extractives systems
i.e. a

lternative energy sources such as

renewable energy projects

and circularity of raw materials as well as

sustainable management of extractive sites, more-efficient extraction, extensive remediation of ecosystem

s
Step 1 - Show your interest
THE REGISTRATION HAS NOW CLOSED FOR THIS EVENT.
Step 2 - Submit your Solution(s)


If you are not yet labeled.
Deadline for Application
Submit a complete application

by March 27th

.


Note: The evaluation process can take up to 8 weeks.

Evaluation
Independant Experts will evaluate your projects against 3 criteria: Feasibility, Environmental Impact and Profitability/Cost. (more info)


Selections
Only complete application will be considered for the E-pitch and get a chance to obtain the Solar Impulse Label.
Event details
WHEN
May 22nd, 17h00 CEST
WHO
5 promising startups selected by the Solar Impulse Foundation, Innovate 4 Nature and EuroQuity

Exclusively for Labeled Solutions
AUDIENCE
50+ international & pan-European investors, VCs, Corporate VCs, Cleantech Funds, and Impact Investors with a specific interest in investing in biodiversity.
PITCH FORMAT
Online, 6 mins + 3 mins Q&A
REQUIREMENTS
Only Solar Impulse Labeled Solutions can participate.

Have received the Solar Impulse Efficient Solution Label before April 28th.
NOTE
We are constantly building partnerships with investors seeking companies like yours. If you are currently raising funds, please update your financial details to help us promote you among our wider investor ecosystem, in particular with the two Solar Impulse Funds launched in collaboration with Rothschild & Co. and BNP Paribas.
You may add your financial details in our financial information form here:
https://solarimpulse.com/fundings/welcome